7 Steps to Renew Your Life This Easter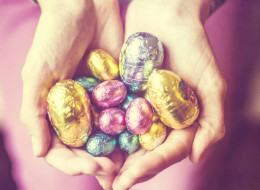 Whenever I think of Easter I think of spring flowers, Easter egg hunts and of course…chocolate. My family did not focus on the religious aspects of Easter growing up, so during my childhood Easter was a secular experience which involved a long weekend, some treats and a good meal at home. In elementary school I saw "Jesus Christ Superstar" and realized that Easter had much more to it than chocolate and a good meal. I loved the music and the story, but I was at a loss as to how my experience of Easter matched up to the story I saw in the movie. It looked much too hot for an Easter egg hunt and I was sure all that chocolate would melt in the dessert climate.
When I became a parent, Easter became an opportunity to share joy and fun with my children. My husband and I would stay up late and hide eggs, trying not to eat too much of the chocolate as we created the hunt for the next morning. As my children grew older I wanted to continue to have these joyful family times, but as a leader to my children I also believed in looking for opportunities to guide them. I wanted to bring "MORE" to the Easter experience. In my book, "M.O.R.E. A New Philosophy for Exceptional Living" MORE is an acronym that means Movement, Opportunity, Reality and Exceptionalism. To be in line with this we shifted the Easter focus from chocolate, to reflection and renewal. This was very positive for our family, and helped us contextualize the story of Easter and rebirth into our present lives. We began to approach Easter as a time to dig into the deeper meanings in our lives and create a map for moving forward and living this exceptional life to the best of our ability. Easter is a time to let go of the old and let in the new.
Utilizing Easter as your own personal renewal time is relatively simple, and can assist you in creating the space you need to truly live your exceptional life. You can do this as an individual exercise that is personal and private, or you can share the process with your loved ones. Here are the 7 steps to renewing your life.
Priorize your personal goals. Take a moment a think about what is truly important to you. Write down your top three priorities in life and then ask yourself if your life is supporting these priorities are not.
Take an inventory of your relationships. Who is bringing you up in life and who is bringing you down? When you think of somebody, how does it really make you feel? Be honest with yourself. Spend more time and energy on the relationships that bring you energy, and less time on relationships that diminish you. There are times that letting go really is essential in order to achieve your goals. There may be relationships that have run their course and some that are filled with old hurts and resentments that are getting in the way. You are not doing yourself or the other person any favours by hanging onto something that is destructive to you, or no longer aligned with your priorities. Sometimes the best way to honour a relationship is to let it go.
Learn to say no. You do not have to do everything you are asked to do. Practice saying no; it can be truly liberating. Set your boundaries. When you say no mean it, and stick to it. Once you get the swing of it you might find yourself saying no just for fun! Create unoccupied spots in your schedule and allow yourself to feel the space in your life.
Be in the moment. An active mind is part of being human, but it often gets filled with chatter and clutter. Focus on conscious breathing and your five senses (smell, sound, taste, sight and touch) to get back in the moment when you mind wanders off. A few minutes of mindfulness offers great advantages to your well-being and health.
Get moving. Get outside again and participate in the activities that energize you. Go for walks, kick a ball, work in the garden, and just start moving. This is not meant to be a set up for grand fitness goals that feel unreachable, but simply a reminder that being active and enjoying the fresh air is part of everyone's overall health and wellness.
Find your creative side. Allow yourself the time to express your creativity and talents. Dig deeper into the talents you have and challenge yourself. Try new things and explore different creative endeavours. Spring is a great time to dance, sing, paint and make music.
Practice gratitude. Everyday think of three things that you are grateful for. They can be big or small things. We can be grateful for our family as well as being grateful for a parking spot. Just keep focusing on gratitude and this will lead you in the right direction. Gratitude is the road to personal satisfaction and success.
In fact, here are three things I am grateful for right now. The opportunity to share some of my thoughts with you, the joy I feel when I hear my children laugh…and chocolate of course!