5 Tips to Transition from SCHOOL to Summer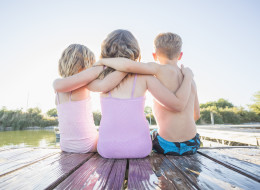 There is no doubt that it was a ragged end to the school year in British Columbia. The school strike led to abrupt endings for many public school students, as well as much confusion and anxiety around juggled schedules and adapted plans. Many parents were caught off guard. Rather than the traditional rites of passage that we have come to expect, many concerned individuals worked hard and scrambled to create substitute ceremonies. A smooth transition from school to summer seemed like a far reach for many. Although there were families who had a tidier ending to the school year, there was still a rush to handle all of the wrap-up activities. Sometimes reflection and planning for the summer got lost in the mix.
Children of all ages do best with routine. However the younger the child, the more dependent the child is upon adults to determine and execute the routines. Routine is important for adults as well and as a parent I must admit I have come to rely heavily upon the school schedule to guide the transition to summer. It is human nature to mark our changes with beginnings, middles and endings. A common complaint is that June is busy with closing ceremonies, awards nights and all sorts of wind up parties – nonetheless, both the parents and children benefit from these rites of closure. This year helped me see how much I appreciate all of the teachers and adults who organized and put together these celebrations. I am also grateful to all who went above and beyond to make something special happen for the children. As this school year had an unusual ending for many, here are a few tips that can help transition your child from school to summer:
Have a focused conversation with your child. Talk to your children about the end of the school year and discuss any disappointments that may have occurred due to missed ceremonies and traditions. Allow them to express their feelings and thoughts before you offer your own opinions. Manage your emotions in order to have constructive conversations with your child, rather than a rant about your own frustrations or political opinions. Pay attention to the developmental stage of your child and have a conversation appropriate to their age. These conversations can be teaching moments for children of all ages. If your child has not had any disruptions, take the time to check in with them and open a dialogue about the highs and lows of the school year.
Create your own ceremonies. We do not have to rely on traditional routines in order to bring meaning to an occasion. If your child missed a celebration, or felt dissatisfied about how an occasion was handled, get them involved in planning an alternate way to mark the occasion. An event can be simple and humble; in fact this approach can bring more meaning to the occasion. If an event is too materialistic or showy, it can lose authenticity. If you are the one assisting your child in creating a celebration to mark an important accomplishment, then you have an opportunity to encourage your values in the experience. It also offers both the parent and the child an opportunity to be creative and bring a unique flair to the situation. Who knows, maybe you will create some new traditions.
Highlight the adaptability of your child. Life is all about change and adaptability is one of the best life skills anybody can have. Use any disruptions as an opportunity to point out how things do not always turn out the way we wanted. The MORE Philosophy notes that we need to accept these futilities in order to move forward. We all feel sad when it comes to losses and disappointments but it is not constructive to spend too much time feeling sorry for ourselves. Adults can lead children through their feelings and move them towards ingenuity and creative solutions. These solutions often surpass the original plans anyway and tend to be more meaningful. The ability to let go of a perfect outcome and adapt is the pavement on the road to an exceptional life.
Take a moment and pause. Although you and your children may have experienced some challenges over the last couple of weeks, there is so much to be grateful for. Put things in perspective. We are all so blessed to be struggling with 'First World' problems. Once you have acknowledged the school year that has passed, take a moment and collect yourself. Once you are centered you can then assist your child in focusing on the opportunities ahead. Then get grounded and go forward.
Have fun and be playful. That is self-explanatory. Enjoy.